Ho, ho, ho…. The Holidays are fast approaching and the sounds of the season can already be heard.
Corners of Sanctuary (COS) have once again wrapped and released a brand new, all original track to commemorate this year's Yuletide festivities with "Christmas Together." This latest track is part of the band's annual Holiday bundle, "A Merry Metal Xmas."
Hear "Christmas Together":
Spotify

Apply Music

"I know we say it every year, but we really love doing these Holiday songs," says COS guitarist and founder Mick Michaels. "They're something special for us and our audience…definitely something to be grateful for."
2022 marks Corners of Sanctuary's tenth year of delivering a sack full of classic, Metal inspired, all-original Holiday flavored songs. Over the last 10 years the band has also released a number of traditional Holiday ditties sprinkled with Heavy Metal toppings including "Jingle Bells," "Joy to the World" and "Silent Night."
"A Merry Metal Xmas IX" includes 10 tracks and is now available through Exquisite Noise Records on all popular online streaming sites. CD copies of the release are available for purchase directly at www.cornersofsanctuary.com and at shows.

Get the "Christmas Together: A Merry Metal Xmas IX" Bundle

A lyric video for "Christmas Together" has also been released.
See the "Christmas Together" lyric video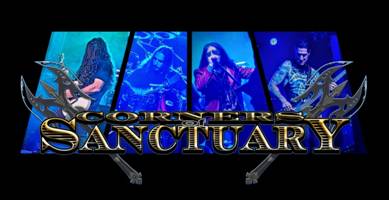 COS finishes out the year with their annual pre-Holiday show on Thanksgiving Eve. Show dates for 2023 are already scheduled including supporting Enuff Z Nuff in February, a return to the UK in April and several performances at this summer's SonarFest 2023; see show schedule below. Plus the band is preparing an EP release for the New Year titled "This is Metal" as well as several other projects now in the works.
Find out more about Corners of Sanctuary at:
Official: www.cornersofsanctuary.com
Facebook: www.facebook.com/CornersofSanctuary
Twitter: www.twitter.com/COSnROLL
Instagram: www.instagram.com/cosnartionmetal
Youtube: www.youtube.com/TheMetalMachine
Get "Defying: A Tribute EP": a Def Leppard tribute release
Get "Metal Never Dies": 20 song compilation

Show Schedule:
November 23rd
Rock'em Sock'em Holiday Feast
The Rusty Nail
Ardmore, PA
2023
February 26th
Dingbatz
w/ Enuff Z Nuff
Clifton, NJ
March 17th
ShamRock'nRoll
The Rusty Nail
Armored, PA
April 20th – 30th
Finish What We Started Tour
United Kingdom 2023
June 9-10th
SonarFest 2023
Sub Alpine Society
Turtle Creek, PA
June 23-25th
SonarFest 2023
Fish Head Cantina
Maryland
July 15th
SonarFest 2023
Westside Bowl
Youngstown, Ohio
August 4-5th
SonarFest 2023
Halftime Sports Bar
Newark, NJ