New Album Out Now! "Trail of Souls: Samsara"
Releasing the re-imagined full-length "Trail of Souls: Samsara" in July 2022, Seattle and Los Angeles-based heavy metal four-piece RivetSkull are sharing a new lyric video for the track "Mystified". The song is about dealing with the fears of stepping out of your comfort zone and considering that sometimes it's easier to simply take solace by getting high and letting your mind wander to another place. A journey of finding your way out of the dark and into the light.
Watch and listen to "Mystified" via its lyric video premiere on Bravewords HERE.
In addition to unveiling their new lyric video, RivetSkull recently launched a merch line called "Zero Hate" (https://www.rivetskull.com/zerohate) where proceeds from sales will be donated to a non-profit called Metal for Good, which uses the positive values of rock, metal, and other alternative subcultures to make a positive difference in communities. More info can be found at https://metalforgood.org/about/
The band comments on Zero Hate Merch.
"We like to make a difference and heavy metal has always been a refuge, RivetSkull is committed to working toward a world of #ZEROHATE. 100% of the profits from RivetSkull's ZERO HATE merch line will be donated to Metal for Good to help support programs that change lives through the collective power and support of the heavy metal community."
Rivetskull's latest full-length "Trail of Souls: Samsara" is a complete re-recording of their self-published 2020 album "Trail of Souls". After self-recording and releasing the debut album during the global pandemic, the band revisited their songs with professional production to capture the massive sound that fans have come to expect from their live shows.
The band comments on re-recording and re-releasing the album:
"Our current sound is a petri dish of our combined experiences up until now: the things we've listened to, the things we've played… Trail of Souls: Samsara is a re-recording of our self-recorded/ self-produced 2020 album Trail of Souls. This time around, we recorded it organically, all together in one room at London Bridge Studio. A really good studio produces a really good sound: it's either tuned that way professionally or it's evolved that way through history. You work differently in that type of environment, it elevates the performance…It's like if a doctor is doing surgery in their living room, they're not going to perform as well.
"Trail of Souls: Samsara" has an epic, yet nostalgic feel. Lyrically, vocalist Chad McMurray writes from the heart about things people can relate to, nothing is contrived. RivetSkull isn't trying to write a certain kind of song and they're not trying to portray a certain image. They're not trying to be a tough, brutal band. They're just normal guys who like metal, much like it was in the 70s – 80s. "I don't know, maybe we need to bring cod pieces back?" jokes McMurray.
Recorded at London Bridge Studio (Alice in Chains, Soundgarden, Queensrÿche) and produced by Matt Hyde (Slayer, Deftones, Seether), "Trail of Souls: Samsara" promises much more than a sonic retouch of the original. The reworked collection features new cover artwork and a previously unreleased recording of a cover of Aerosmith's "King and Queens."
RivetSkull keeps it classic and is recommended for fans of Judas Priest, Def Leppard, and Armored Saint.
"Trail of Souls: Samsara" was released on July 8, 2022, and is available on all digital platforms at the following link – https://lnk.to/TrailOfSoulsSamsara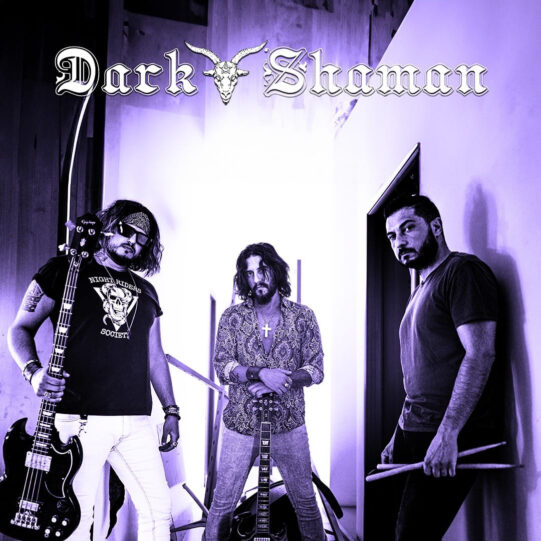 Track Listing:
1. Crash and Burn (2:49)
2. Forever (5:24)
3. Mystified (3:45)
4. Another Way to Heaven (7:29)
5. Narcissus (5:01)
6. Trail of Souls (4:04)
7. It's Not Enough (4:02)
8. Kings and Queens (Aerosmith cover) (5:16)
Album Length: 37:54
For more info:
http://www.rivetskull.com
http://www.facebook.com/rivetskull
http://www.twitter.com/rivetskull
http://www.instagram.com/rivetskull
About:
It would be easy to call RivetSkull a traditional heavy metal band, but they're so much more than that. RivetSkull has taken the very roots of heavy metal and forged it into something new and fresh. Spawned from the same DNA that created the beasts that roamed the dark valleys of Birmingham, the foothills of the Cascades, and the plains of Texas, there's no denying RivetSkull's heavy metal heritage. This is hard-hitting music blasted over record store chatter, the buzzing of a tattoo gun, or the revving of a motorcycle engine. But, as any metalhead will tell you, heavy metal is more than just a genre: it's therapy, it's community, it's a style – and it's a movement. And it's always evolving.

RivetSkull has created a modern sound that's as unique as each member's influences, from punk to country, from alternative to funk. Listening to RivetSkull, it's easy to envision the band's live show: Chad McMurray's clean vocals soaring over a sea of bobbing bodies in black band t-shirts, Mark X. Plog's boundary-defying guitar ascending over raised beers and outstretched metal horns, Michael Robson's emphatic drums and Mark Hopkins' booming bass rattling the bones beneath black jeans and denim vests. Like good metal – you'll feel it in your core as much as you'll hear it in your ears. All of this is brought to you by a dedicated and hard-working band of brothers. They are RivetSkull and they're bringing the past into the future.